I am back with another affiliate program review that will help you to make money online.
So in this post, I will be talking about A2 Hosting Affiliate Program Review.
I have already written a detailed blog post on my A2 Hosting Web Hosting Review.
Before I start talking about this awesome A2 Hosting Affiliate Review.
I want to share something about A2 Hosting
An Overview of A2 Hosting
A2 Hosting was started back in 2001 when its CEO Bryan Muthig used his strong background and experience being a UNIX system admin to launch A2 Hosting.
A2 Hosting was originally called Iniquinet. A2 Hosting was initially launched as a hobby but it has grown into a lot more from its start.
They had their roots in a two-room office from Ann Arbor, Michigan picking the best team members and building data centers around the globe.
From hosting a couple of sites of friends and family members to hosting thousands of famous websites. Also scaling from offering Shared Web hosting to a fully scalable product line featuring Reseller, VPS, and Dedicated Servers.
Also Read: Best Web Hosting Affiliate Programs
Services Offered By A2 Hosting
Below is the list of services offered by A2 Hosting
Shared Hosting
VPS Hosting
Reseller Hosting
Dedicated Hosting
Domains
Web Hosting Solutions like Auctions, Analytics, and much more.
Check the Price of A2 Hosting Servers Now
I hope you must have got an idea of this awesome web hosting
Now let's talk something about its affiliate program
About A2 Hosting Affiliate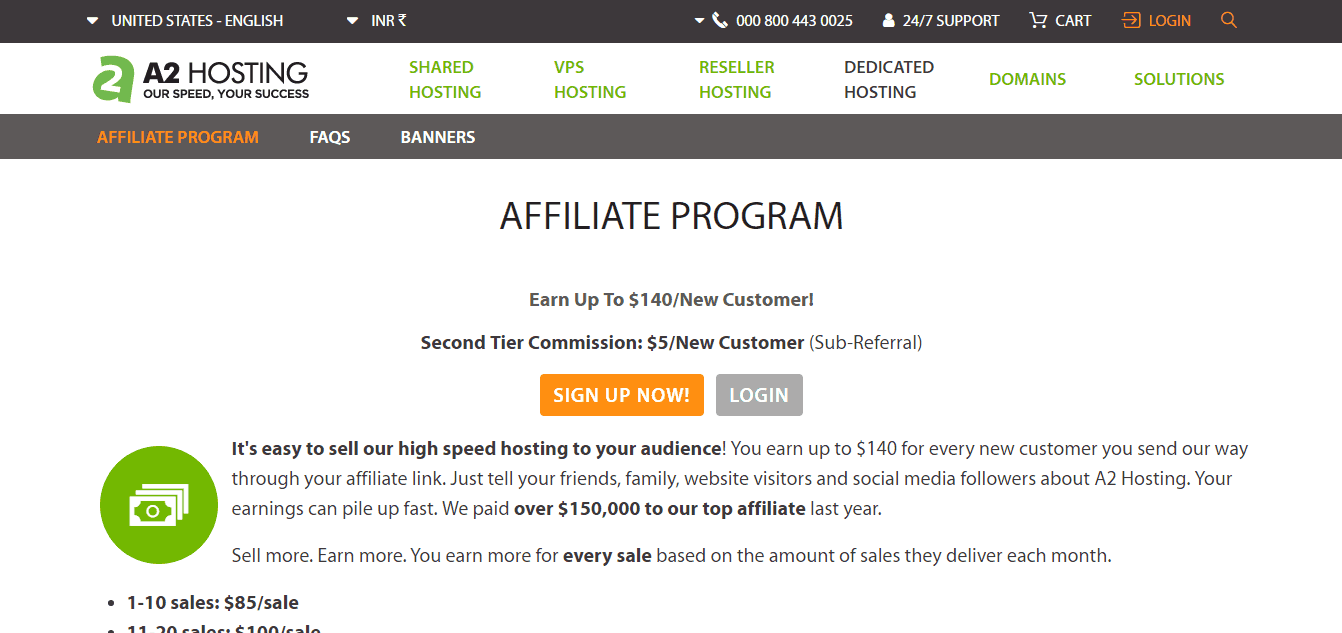 You can earn up to $140 for every new customer you send through your affiliate link. You just need to tell your friends, family, website visitors, and social media followers about A2 Hosting.
You will surely be earning very fast.
They have paid over $100,000 to their top affiliates in the last year.
The more sales you send them the more you earn.
Here is the breakup of sales and how much you can earn –
1 – 10 Sales – $55/sale
11-20 Sales – $100/sale
21-30 Sales – $120/sale
31+ Sales – $140/sale
It's pretty awesome isn't it?
Click here to join A2 hosting Affiliate Now
Features of the A2 Hosting Affiliate Program
Custom Customer Welcome Email & Landing Page For Top Affiliates
Active & Responsive Affiliate Program Management
Real-Time Affiliate Stats
Long 90-Day Cookie Life
Monthly Payments on the 15th
A/B Tested Landing Pages
Triple Redundant Tracking
Easy-To-Use PostAffiliatePro Control Panel
Deep Linking (Choose Where You Link)
Frequently Asked Questions about A2 Hosting Affiliate Review
1. Do I have to be an A2 Hosting Customer to be an affiliate?
Not at all. You don't need to be their customer but try their service just once you will love it.
2. I know someone who is in need of hosting. How can I earn a referral fee?
You need to signup for the affiliate program. Once you are approved login to your affiliate account and find your unique affiliate link for promotion. Send this link to someone who needs to buy hosting. Once they click and make an order you earn a commission
3. I have been approved for A2 Hosting Affiliate Program. Now what should I do?
Log in to your affiliate account to access A2 Hosting marketing materials. Click on Banners and Links on the left-hand side under the "Promotions" tab. Grab your affiliate link which you can paste on the sidebar of your blog or share on social media.
4. When are the sales approved?
Active sales are approved after 45 days
5. I have made the sale. When will I get paid?
You need to maintain a minimum of 100$ before payments are made. Once your commissions are approved you will be paid on "the 15th" of the month via Paypal.
6. I just made a sale where can I see it?
You need to log in to your A2 Hosting Affiliate account and then click on Commissions on left-hand side. You will then be able to view all your approved and pending commissions.
Steps to Register for A2 Hosting Affiliate Program in 2023
Step 1.
Click here to go to A2 Hosting
Step 2.
Here you need to select the following details to be filled.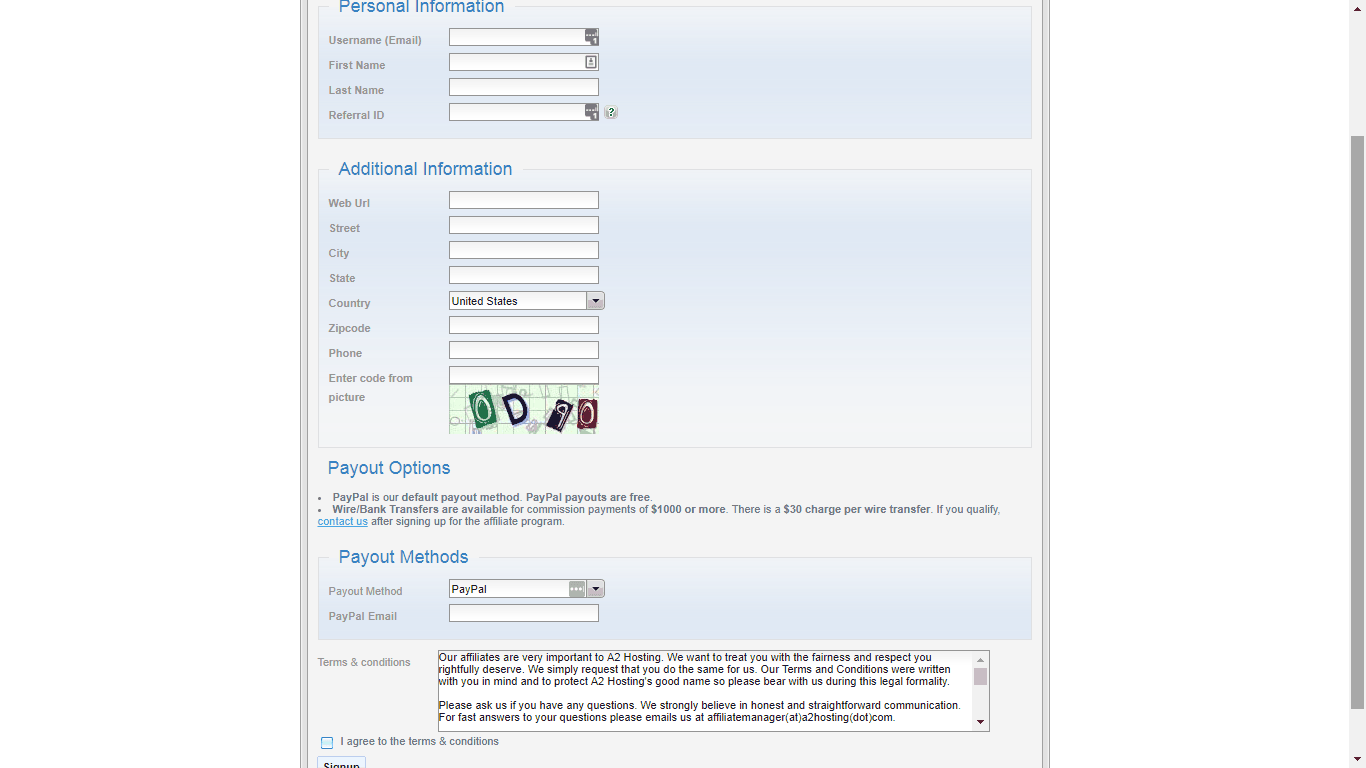 In Personal information you need to put your username which is your email ID, First Name, Last Name, and Referral ID ( which can be your blog name).
Enter Additional information like Web URL, Street, City, State, Country, Zip Code, and Phone.
Enter the Captcha and complete your Registration.
Also Read: Best Web Hosting Free Trial without Credit Card
Step 3.
Here you need to select Paypal as a Payment method and enter your Paypal email which you would like to get paid.
And then click on the Sign up button to complete registration.
Conclusion on Affiliate Review for A2 Hosting in 2023
If you have any questions or suggestions please let me know I will be happy to answer them.
Click here to Sign Up for A2 Hosting Affiliate Program
Also Read: 
Latest posts by Sufyan Shaikh
(see all)