If you want a website that can help you reach your customers, you will need a web hosting service that is simple and affordable. A good hosting service can be the secret behind a successful blog or website.
Picking a hosting site can be a challenging task, but sites with a large number of visitors should consider opting for VPS hosting. This Bluehost VPS review will clear all your doubts about getting a VPS hosting service.
What Do You Mean by VPS Hosting?
Virtual Private Server, or VPS, is a form of hosting where multiple companies utilize the same parent server with separate instances. It is a virtual operating system located within a host server. It is a suitable tool that provides extra power and performance to manage extra traffic. It is a budget-friendly service that is flexible enough to run desirable applications and software configurations.
In this VPS review of Bluehost, you will learn that VPS is an advanced service with the shared features of both, Shared and Dedicated hosting. A VPS is made by dividing a physical server into multiple virtual machines. A VPS is a virtual computer, but it performs like a normal server. Each VPS functions separately and runs its own operating system and set of applications. This has made it possible to access the power of dedicated hosting in a more pocket-friendly way. It allows professionals and businesses to start small and gradually get where they need it to be.
Also Read: Bluehost Shared Hosting Review
Bluehost VPS Review: Is It the Best Hosting for WordPress?
Bluehost is one of the most respected and trusted hosting services when it comes to WordPress hosting. They even come officially recommended for the same. Bluehost is the expert in dealing with massive traffic and preventing a website from running slow. It is a secure way of handling a website for a reasonable price. In this review of Bluehost VPS, you will come across many more reasons for picking VPS hosting. VPS comes in two variations, Single Server VPS and Cloud VPS.
Click here to check Latest Bluehost VPS Deal
Reasons for Using Bluehost VPS Hosting in 2023
Another purpose of this Bluehost VPS hosting review is to tell you why Bluehost VPS might be the best hosting service for you. Here are some of the reasons to consider investing in Bluehost VPS:
Staggering Website Performance: VPS hosting gives you the optimum website experience. Shared hosting plans do not come with assured CPU or RAM usage. Due to multiple users, it is easier to reach the usage limits sooner, which affects all websites on the server. VPS hosting, on the other hand, provides you with individual RAM and CPU usage. The basic plan itself comes with 2 GB dedicated RAM and 1 TB bandwidth. VPS also gives you optimizing the access. You can give commands or make configuration changes at your convenience.
Instant Deployment: There is no unnecessary waiting with a VPS server. Many hosting solutions take hours to be deployed. Bluehost, on the flip side, provides instant provisioning. Once you purchase a VPS hosting service, Bluehost, you can use the server second you wish to.
Root Access: one of the biggest advantages of Bluehost VPS hosting, perhaps, is that you get root access. This access gives you complete admin powers to edit all files on your server. Not only that, you even get the ability to customize your setup to include unconventional software and configurations.
Outstanding Security: All VPS hosting services state the matter of security very seriously. Bluehost VPS hosting and endeavors to provide the best security features by providing customers with individual operating systems. Moreover, with Bluehost VPS, you have open access control, so you can easily generate passwords for particular aspects of your hosting account.
Around the Clock Technical Support: Bluehost offers stellar customer support full of committed team members thoroughly trained in the technology. You can reach out to them any time of the day for instant technical support.
Also Read: Bluehost Affiliate Program Review
Things to Consider While Choosing VPS Hosting
Before you pick VPS hosting for your website, there are always a few things you need to consider. You can tell if a VPS is a good option for you if you need a more exotic operating system available in a shared hosting setup, whether you need the ability to customize your hosting setup to include non-standard software or respond quickly add power to match demand.
You also need to think about whether you need extra power and superior hosting for your website on a budget. In writing this Bluehost VPS review, it became clear that there are primarily five things that you need to take into account before purchasing a VPS service:
Pricing and Money Back Guarantee: it goes without saying that whenever we look for any kind of service, we wish for something pocket-friendly. When picking a hosting service, there is no need to pick a service that can break your bank. These days there are plenty of affordable options that also come with a money-back guarantee. It is essential to pick a service with a money-back guarantee so that you can choose another service if you are unsatisfied.
Control Access: Flexible control access comes in handy when you wish to change your domain name, change configurations, or check your website stats. Make it a point to check whether up VPS hosting provider is offering flexible control access or not.
Security Features: an indicator of a secure website is a secure socket layer certificate. An SSL certificate helps users know that the information they share on a website will be safe. The certificates are shown by the padlock sign and the "HTTPS" at the beginning of a web address. It is crucial to check that the VPS hosting service provider offers an SSL certificate. It will ensure that the visitors of your website never get a warning about your site being insecure. Also, make sure that your package includes protection from malware attempts and hackers.
Migration: If you are not happy with your current VPS hosting providers, the best option for you is to migrate to a different provider. The silver lining is that it is pretty simple. With providers like Bluehost, you can easily move your sites by following general guidelines, or you can seek professional help and pay a migration fee.
Customer Support: For any service to be a public favorite, it is important that they have outstanding customer support. Before choosing a VPS hosting provider, make sure to check out all the customer support services and their operating conditions. It is a good sign if a service offers communication via phone call, chat, email, etc.
Features of Bluehost VPS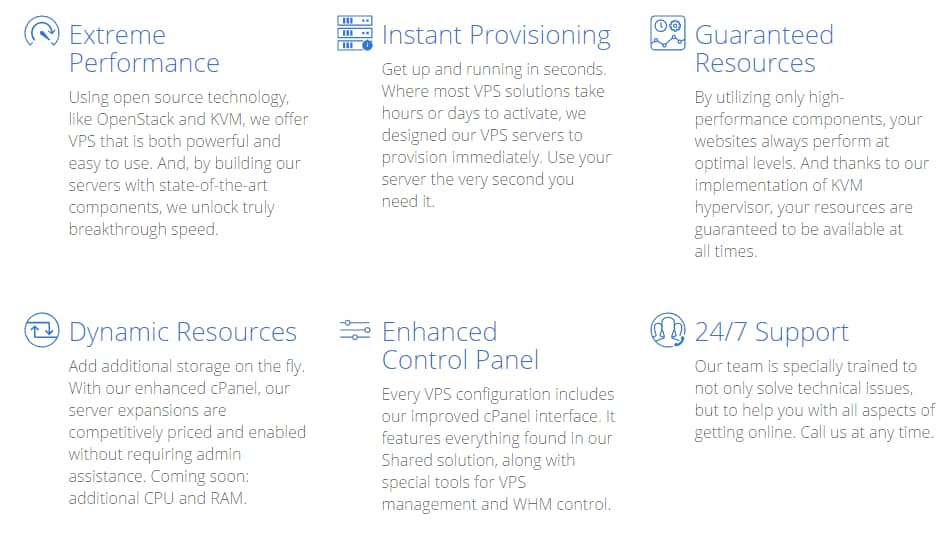 This review of Bluehost VPS aims to discuss the features of Bluehost VPS hosting. Purchasing a Bluehost VPS plan will provide you with the following services:
Domain Registration: If you sign up for a one-year plan, Bluehost will offer you a free domain.
Website Builder: It has several features which make website building easier for those people who have an idea about what they want. There is no need to worry, even if you have no experience in website building.
cPanel: Bluehost uses a very popular site management system, the "cPanel." It also offers free backups to maintain your important site files.
Storage: Depending on the plan you purchase, you can get anything from 50 GB to unlimited storage space.
Pricing Plans for Bluehost VPS
Bluehost VPS offers three pricing options:
Standard: This plan is suitable for beginners and entry-level websites. It is the basic VPS hosting plan from Bluehost, which costs you $18.99 per month.
Enhanced: This plan is suitable for eCommerce sites and small businesses with limited budgets. It is the most used VPS hosting plan from Bluehost, which costs you $29.99 per month.
Ultimate: This plan is suitable for agencies, eCommerce sites, and heavy traffic websites. It is the most advanced VPS hosting plan from Bluehost, which costs you $59.99 per month.
Pros of Bluehost VPS Hosting
The Bluehost VPS review makes it clear that the hosting service has a number of attractive merits.
Most plans in Bluehost VPS hosting come with unlimited storage and bandwidth.
Free SSL certificate makes it easier for a website to switch from "HTTP" to "HTTPS."
Different pricing plans to match different affordabilities.
Customers often post reviews that Bluehost is fast and offers enhanced performance.
All Bluehost plans provide a free domain name.
Get 1 TB bandwidth even with the basic plan.
Bluehost VPS offers excellent security features.
Expert technical and customer support 24×7.
Cons of Bluehost VPS Hosting
It is impractical to expect a service to check all the boxes. It is only natural that in this Bluehost VPS hosting review, we cover the downside of the service as well:
Bluehost offers several valuable add-ons. However, the issue is that you need to install them to achieve proper functionality.
Some of the most interesting WordPress plans are expensive in comparison to other competitive VPS hosting service providers.
Do You Need to Upgrade to VPS Hosting or Dedicated Hosting?
It is a matter of what suits your requirements and whether you can afford it or not. A Dedicated hosting service offers an entire server for use to an individual customer. This offers a very high degree of customization and powerful solutions. It is a great option for websites that hold security in the highest regard.
Some businesses want complete certainty that their application should not be shared with any other customers. The demerits of a Dedicated hosting service are that it takes up a lot of space and can run only one operating system. It definitely is not among the cheaper options.
On the other hand, VPS hosting is capable of managing several websites and still provides instant improvisation. It costs much lesser than a dedicated hosting service. It is also highly cost-effective since you only need to pay for what you use. Bluehost VPS hosting service lets you upgrade or downgrade to meet your exact requirements.
Is Bluehost VPS Hosting Reliable?
Bluehost VPS hosting has been in the hosting business for a very long time. It certainly comes with a lot of added benefits. It has a fully managed service. This means that it takes a lot of the burden off of the business or website owner. If you are not tech-savvy, you do not need to worry. Nor do you need to manage the configurations by yourself.
Bluehost VPS hosting also offers cloud services and provides automated migration. It even offers to migrate several applicable WordPress websites free of cost. There is little reason to delay purchasing the service with a long list of advantages covered in the Bluehost VPS review.
How Good Is the Technical Support of Bluehost VPS?
With Bluehost, a customer never needs to worry about customer service. Bluehost VPS hosting service has an excellent customer support staff. They offer 24-hour technical support through phone calls, chat, and email. The customer support team is well trained and highly experienced. Bluehost claims that proper support engineers handle all kinds of technical support services in their Utah headquarters.
Frequently Asked Questions about VPS Hosting for Bluehost
1. Are there any benefits in using VPS hosting?
VPS hosting is a great option that checks in the boxes for services provided by shared hosting as well as dedicated hosting. It comes with excellent resources and affordable prices.
2. Is VPS hosting different from cloud hosting?
In a cloud hosting service, if a physical server fails, you have an option of migrating cloud servers into another physical server without interrupting your current session and hence avoiding the loss of any data or traffic. On the other hand, VPS hosting does not offer this service as all the data is located at physical servers.
Conclusion on VPS review of Bluehost Hosting in 2023
In comparison to several other VPS hosting services, Bluehost VPS hosting surely maintains a high status. Despite a few negative feedbacks, the majority of customers are pretty happy with their overall experience with Bluehost.
Also Read:
Best Bluehost Plan for Bloggers
Bluehost Black Friday Deals
How to Start a WordPress Blog on Bluehost