| Features | Cloudways | Hostinger |
| --- | --- | --- |
| Pricing | Varies based on the cloud provider and resources | Affordable shared and VPS hosting plans |
| Performance | Managed cloud hosting for optimal speed | Reliable uptime and decent loading times |
| User Interface | Customizable control panel | User-friendly interface for easy navigation |
| Scalability | Scales seamlessly with traffic spikes | Limited scalability options |
| Features and Tools | Rich toolset including CDN and backups | Essential features for different needs |
| Security Measures | Firewalls, SSL, regular backups | Basic security features included |
| Customer Support | 24/7 live chat, ticket system | 24/7 customer support via live chat |
| User Reviews | Positive feedback on performance and support | Mixed reviews highlighting affordability |
Checkout Now: Explore Cloudways | Discover Hostinger
In the world of web hosting, making the right choice can significantly impact the success of your online venture. When it comes to hosting providers, Cloudways and Hostinger are two names that often rise to the surface. If you're in the process of selecting the perfect hosting solution for your website or application, the battle between Cloudways and Hostinger might have caught your attention.
In this comprehensive comparison, we'll take a deep dive into the features, performance, pricing, and more, to help you make an informed decision. Whether you're a seasoned website owner looking to switch hosts or a newbie about to embark on your online journey, this guide aims to provide you with the insights you need to choose between Cloudways and Hostinger.
By the time you've finished reading, you'll have a clearer understanding of what each hosting provider brings to the table. Let's explore the strengths, weaknesses, and unique offerings of Cloudways and Hostinger, so you can confidently select the hosting platform that aligns with your goals and aspirations.
Pricing and Plans
When considering a hosting provider for your website, understanding the pricing structures and available plans is paramount. Let's dive into how Cloudways and Hostinger stack up in terms of pricing and the plans they offer.
Cloudways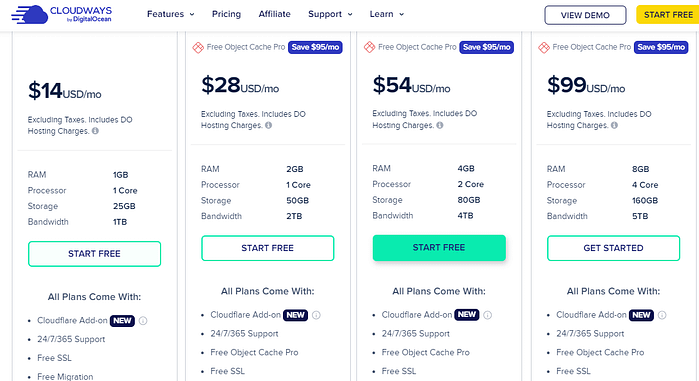 Cloudways adopts a unique approach to pricing, offering a pay-as-you-go model. This means you're charged based on the resources you use, which can be particularly advantageous for those who require flexibility. The plans cover a wide range of budgets, starting from as low as $10 per month. Within these tiers, you can choose from various cloud providers, including AWS, Google Cloud, and DigitalOcean, each with its own pricing nuances.
The transparent pricing of Cloudways ensures that you're only paying for the resources your website actually utilizes. This can be especially beneficial for startups and small businesses looking to keep their hosting costs in check as they grow.
Hostinger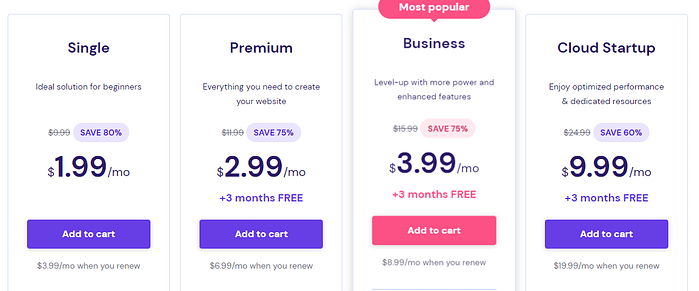 Hostinger is known for its affordability and simplicity. Their shared hosting plans begin at incredibly budget-friendly rates, often around $1.39 per month with promotional pricing. These plans are designed to cater to beginners and small websites, making them an attractive option for those on a tight budget.
However, as your website expands and demands more resources, you might need to consider their higher-tier plans for improved performance. These plans, while still competitive in pricing, offer more advanced features and resources to accommodate growing needs.
Which One to Choose?
The choice between Cloudways and Hostinger largely depends on your budget and the level of control you need over your resources. If you prefer a pay-as-you-go structure and have specific cloud providers in mind, Cloudways might be the better fit. On the other hand, if you're starting small and looking for an affordable entry point, Hostinger's shared hosting plans could be a great starting point.
Explore Cloudways | Discover Hostinger
Performance and Speed
When it comes to hosting, performance, and speed are two crucial factors that can significantly impact your website's user experience and search engine rankings. Let's dive into how Cloudways and Hostinger fare in terms of performance, ensuring your visitors get a seamless browsing experience.
Cloudways
Cloudways has carved a niche for itself by offering managed cloud hosting solutions. Leveraging the power of top-tier cloud providers like AWS, Google Cloud, and DigitalOcean, Cloudways empowers websites with scalable resources. The utilization of SSD-based storage enhances data retrieval speed, translating to quicker loading times for your pages.
One of Cloudways' standout features is its ThunderStack technology, a potent combination of Apache, Nginx, Memcached, Varnish, and PHP-FPM. This stack turbocharges server response times, ensuring your content reaches your audience swiftly. Additionally, Cloudways' content delivery network (CDN) integration further reduces latency by distributing content across global servers.
Hostinger
Hostinger, on the other hand, takes pride in its optimized shared hosting environment. Built on LiteSpeed web servers and powered by the LSCache plugin, Hostinger's hosting ensures your website benefits from a performance-oriented setup right out of the gate.
Hostinger employs a global network of data centers, strategically positioned across continents. This means your site visitors experience minimized latency as content is delivered from a server nearest to them. The utilization of SSDs and LiteSpeed caching technology also contributes to faster loading speeds.
Performance Benchmarks
In performance benchmarks, both Cloudways and Hostinger have demonstrated impressive results. Load times have consistently clocked in at under 2 seconds for well-optimized websites on both platforms, contributing to a positive user experience.
Conclusion
Both Cloudways and Hostinger prioritize performance by employing cutting-edge technologies and optimizing server setups. Cloudways' focus on managed cloud hosting with ThunderStack provides a potent combination for speed, while Hostinger's shared hosting environment, powered by LiteSpeed, ensures a smooth browsing experience. Your choice between the two will largely depend on the scale of your website, your technical expertise, and your performance expectations.
Explore Cloudways | Discover Hostinger
User Interface and Ease of Use
When it comes to managing your website, a user-friendly interface can significantly impact your experience. Let's explore how both Cloudways and Hostinger fare in terms of user interface and ease of use.
Cloudways
Cloudways boasts an intuitive control panel that simplifies the process of managing your hosting environment. With a focus on user-friendliness, their interface is clean, organized, and designed with both beginners and experienced users in mind. The dashboard provides easy access to essential features like server management, application deployment, and scaling options.
Navigating through Cloudways' control panel is straightforward. From managing domains to setting up SSL certificates, the platform guides you step by step. Even if you're not well-versed in server management, you'll find Cloudways' interface to be approachable and informative.
Hostinger
Hostinger also places a strong emphasis on user-friendly interfaces. Their custom control panel is designed for simplicity without compromising functionality. From domain management to one-click installations of popular applications like WordPress, Hostinger's control panel offers a smooth and efficient experience.
The interface's layout is clear and easy to navigate, making tasks like managing email accounts and accessing support resources hassle-free. Hostinger aims to ensure that users of all levels, from beginners to experts, can easily find what they need without getting lost in a maze of options.
Comparison
Both Cloudways and Hostinger excel in providing user-friendly interfaces. Cloudways' dashboard might be particularly appealing if you're interested in more control over server settings, while Hostinger's streamlined approach can be a perfect fit for those seeking straightforward management without overwhelming details.
In conclusion, the user interfaces of both Cloudways and Hostinger are designed with simplicity and functionality in mind. Your preference will depend on your comfort level with server management and the depth of control you desire. Whether you're a newbie or an experienced user, both platforms offer interfaces that can help you efficiently manage your hosting environment and focus more on your website's growth and development.
Explore Cloudways | Discover Hostinger
Scalability
Scalability is a critical factor to consider when choosing a hosting provider, especially if you have plans for growth or expect fluctuations in website traffic. Both Cloudways and Hostinger offer scalability options, but they differ in their approaches.
Cloudways: Cloudways takes a unique approach to scalability by offering a managed cloud hosting environment. They provide access to top cloud infrastructure providers such as Amazon Web Services (AWS), Google Cloud Platform, and DigitalOcean. This means that as your website traffic grows, you have the flexibility to scale your resources vertically (increasing server power) or horizontally (adding more servers) based on demand. Cloudways' user-friendly dashboard allows you to easily adjust resources without extensive technical knowledge.
Hostinger: Hostinger offers a range of hosting plans, including shared hosting, VPS hosting, and cloud hosting. While their plans come with varying levels of resources, their scalability options may vary depending on the plan you choose. Their cloud hosting plans, similar to Cloudways, provide better scalability by allowing you to adjust resources on the fly. However, the scalability options might be more structured compared to Cloudways' managed cloud approach.
Choosing the Right Option: If scalability is a top priority and you anticipate rapid growth or traffic spikes, both Cloudways and Hostinger can accommodate your needs. Cloudways might be particularly appealing if you prefer a managed cloud environment that offers more granular control over scaling. Hostinger cloud hosting could also be suitable for more straightforward scaling requirements.
In summary, whether you opt for Cloudways or Hostinger, you'll have scalability options at your disposal. Analyze your website's projected growth and traffic patterns to determine which approach aligns better with your requirements. This step will ensure that as your online presence expands, your hosting can seamlessly handle the increased demands without compromising on performance or user experience.
Explore Cloudways | Discover Hostinger
Features and Tools
When it comes to choosing a hosting provider, the features and tools they offer can significantly impact your website's performance and management. Let's dive into the array of features and tools provided by Cloudways and Hostinger to help you make an informed decision.
Cloudways: Cloudways prides itself on offering a versatile set of features designed to cater to a wide range of user needs. One of its standout features is the ability to choose from multiple cloud infrastructure providers, including AWS, Google Cloud, and more. This allows you to select a cloud that aligns with your specific requirements and budget.
For those seeking enhanced performance, Cloudways provides built-in caching solutions like Varnish and Memcached, ensuring quicker load times and a smoother user experience. Moreover, their managed security features include regular security patches, firewalls, and dedicated IP addresses, bolstering your website's defense against potential threats.
The platform also boasts a user-friendly control panel that simplifies server management. With features like easy application deployment, scaling resources on demand, and one-click backups, Cloudways empowers users to manage their websites with ease, regardless of their technical expertise.
Hostinger: Hostinger, on the other hand, offers a feature-rich hosting experience tailored to different user levels. Their hPanel control panel is intuitive and user-friendly, making it accessible to beginners while still offering advanced options for experienced users.
One of Hostinger's standout features is its powerful website builder, ideal for those who want to get a website up and running quickly without diving into code. Additionally, their performance optimization tools, including LiteSpeed caching and Cloudflare integration, contribute to faster loading times and improved site responsiveness.
Hostinger also offers a range of programming support, including support for PHP, MySQL, and even Git integration, catering to developers who require advanced tools for their projects. For e-commerce enthusiasts, Hostinger provides tools for easy integration of online stores and payment gateways.
Comparison: When comparing Cloudways and Hostinger, it's clear that both platforms offer a solid array of features and tools. Cloudways excels in flexibility by letting you choose your cloud provider and offering powerful caching and security options. On the other hand, Hostinger impresses with its user-friendly interface, website builder, and performance optimization tools.
Explore Cloudways | Discover Hostinger
Before making your decision, consider your specific needs. If you prioritize granular control over your server infrastructure and advanced performance optimization, Cloudways might be the better choice. However, if you're looking for a user-friendly experience, website builder, and a variety of tools suitable for different skill levels, Hostinger could be the hosting provider for you.
In the next section, we'll delve into the crucial aspect of security measures to ensure your website's safety in the online realm.
Security Measures
When it comes to selecting a hosting provider, ensuring the safety and security of your website and data is paramount. Let's dive into how Cloudways and Hostinger approach security, ensuring that your online presence remains shielded from potential threats.
Cloudways: Cloudways takes security seriously by implementing a multi-layered approach. They provide regular security patches and updates, keeping your server environment up-to-date with the latest security measures. Their platform offers free SSL certificates, encrypting data transmission between your site and its visitors. Additionally, Cloudways provides a dedicated firewall that acts as a protective barrier, thwarting malicious attempts to infiltrate your server.
Furthermore, Cloudways employs automated backups at chosen intervals, allowing you to restore your website to a previous state in case of any security breach or data loss. This safety net ensures that your hard work remains intact, even in the face of unforeseen events.
Hostinger: Hostinger also places a strong emphasis on security, providing features to safeguard your online assets. With free SSL certificates, they encrypt data flow, bolstering the security of user interactions with your website. They employ BitNinja, an advanced server security tool that proactively detects and blocks various types of cyber threats, such as DDoS attacks and malware.
Moreover, Hostinger's automated daily backups ensure that your website's data is regularly duplicated and stored off-site. This means that in the event of a security incident, you can quickly restore your website to a safe point in time.
Conclusion: Both Cloudways and Hostinger demonstrate a commitment to security by offering a range of protective measures. While Cloudways focuses on a robust firewall and regular updates, Hostinger leverages advanced security tools like BitNinja to detect and mitigate potential threats. Whether you prioritize a layered firewall system or comprehensive threat detection, both hosting providers take significant steps to safeguard your digital assets, letting you rest easy knowing your website's security is in capable hands.
Explore Cloudways | Discover Hostinger
Customer Support
When it comes to web hosting, having reliable and responsive customer support can be a game-changer, especially when you encounter technical issues or need assistance. Let's delve into how Cloudways and Hostinger fare in the realm of customer support.
Cloudways Customer Support: Cloudways takes pride in its customer support, offering a range of channels for users to seek assistance. Their live chat feature allows you to connect with a support agent in real time, which can be a lifesaver when you're facing urgent problems. Additionally, Cloudways provides a ticketing system where you can submit your issues and queries, with an average response time that generally falls within a few hours. Their extensive knowledge base and community forum offer a self-help option, allowing you to find solutions independently. The availability of 24/7 customer support ensures that your concerns are addressed promptly, regardless of the time zone you're in.
Hostinger Customer Support: Hostinger, too, places great emphasis on customer support. Their live chat support is available around the clock, enabling you to get swift help from their team. Hostinger's knowledge base is comprehensive, covering a wide range of topics and providing step-by-step guides to troubleshoot common issues. If you prefer to communicate via email, Hostinger offers a ticketing system as well. Users have reported positive experiences with the support team's friendliness and willingness to assist.
Comparison: Both Cloudways and Hostinger offer robust customer support options. Cloudways' ticketing system might have a slight edge in terms of response time, making it advantageous for users who prefer a more asynchronous mode of communication. On the other hand, Hostinger's live chat availability at any time of day can be a significant plus for those who need immediate assistance. Ultimately, the choice between the two would depend on your preferred mode of communication and the urgency of support needed.
Explore Cloudways | Discover Hostinger
Conclusion: In the realm of customer support, both Cloudways and Hostinger excel, ensuring that users receive the assistance they need when navigating the intricacies of web hosting. Whether you opt for Cloudways' responsive ticketing system or Hostinger's round-the-clock live chat, rest assured that your hosting journey will be backed by knowledgeable and attentive customer support teams.
User Reviews and Reputation
User reviews and reputation play a pivotal role in understanding the real-world experiences of individuals who have entrusted their websites to hosting providers. Let's delve into the sentiments surrounding Cloudways and Hostinger to get a clearer picture of their user satisfaction.
Cloudways Reviews: Cloudways has garnered a strong reputation for its managed cloud hosting services. Users frequently praise its user-friendly interface, which allows even those without advanced technical knowledge to set up and manage websites effortlessly. Many reviewers highlight the platform's efficient scaling capabilities, which cater to websites of varying sizes. However, there have been occasional mentions of a steeper learning curve for beginners due to the customization options offered by Cloudways.
Hostinger Reviews: Hostinger has earned a notable following for its budget-friendly hosting solutions. Users appreciate the competitive pricing coupled with reliable performance. The platform's beginner-friendly approach is frequently applauded, making it an attractive choice for those new to website hosting. However, some users note that advanced users might miss certain features or customization options that are more common in higher-tier hosting providers.
Comparing User Satisfaction: Both Cloudways and Hostinger receive positive reviews for different reasons. Cloudways tends to cater more to those seeking scalability and customization, while Hostinger's affordability and simplicity attract individuals looking for a hassle-free experience. It's important to remember that user experiences can vary based on individual needs and expectations.
Online Reputation: In terms of reputation, both Cloudways and Hostinger have established themselves as reliable hosting providers in the industry. They have amassed numerous positive reviews across various online platforms, indicating their commitment to customer satisfaction.
Conclusion: When it comes to user reviews and reputation, both Cloudways and Hostinger have their fair share of admirers. Cloudways excels in providing scalable solutions with a slightly steeper learning curve, while Hostinger shines with its affordability and beginner-friendly approach. As you consider your hosting options, be sure to weigh these user experiences against your specific requirements to make the most informed decision.
Explore Cloudways | Discover Hostinger
Pros and Cons
Choosing between Cloudways and Hostinger involves weighing the advantages and disadvantages of each hosting provider. Let's take a closer look at the pros and cons of both platforms to help you make an informed decision.
Cloudways:
Pros:
Scalability: Cloudways offers seamless scalability, allowing you to easily adjust your resources as your website grows. This is especially beneficial for businesses expecting fluctuations in traffic.
Performance: Leveraging cloud infrastructure, Cloudways delivers impressive speed and performance. Your website's loading times can be significantly improved, contributing to a better user experience and potentially higher search engine rankings.
Choice of Cloud Providers: Cloudways lets you choose from several leading cloud providers, including AWS, Google Cloud, and DigitalOcean. This flexibility empowers you to select the infrastructure that suits your requirements.
Managed Services: Cloudways handles server management tasks for you, such as security updates and backups. This is a boon for those who want the benefits of cloud hosting without the complexities of server administration.
Cons:
Learning Curve: Cloudways' advanced features may require a learning curve, particularly for beginners. While their interface is user-friendly, some technical knowledge might be necessary to make the most of their offerings.
Pricing Complexity: While offering great flexibility, Cloudways' pricing structure might be a tad complex for some users. It's essential to thoroughly understand the costs associated with various cloud providers and plans.
Explore Cloudways | Discover Hostinger
Hostinger:
Pros:
Affordability: Hostinger is renowned for its budget-friendly pricing plans, making it an attractive choice for individuals and small businesses looking to get online without breaking the bank.
User-Friendly: Hostinger's intuitive interface and control panel make it a suitable option for beginners. Setting up a website, managing domains, and installing applications are streamlined processes.
Global Server Locations: With servers spread across the globe, Hostinger ensures that your website visitors experience minimal latency, resulting in faster loading times and a smoother browsing experience.
Customer Support: Hostinger provides 24/7 customer support via live chat, making it convenient to get assistance when you need it the most.
Cons:
Limited Advanced Features: While suitable for personal and small business websites, Hostinger might lack some advanced features and scalability options required by larger or rapidly growing websites.
Resource Limitations: Some of Hostinger's lower-tier plans come with resource limitations, which could potentially affect websites experiencing high traffic or resource-intensive applications.
As you consider your hosting options, remember that the "best" choice depends on your specific needs and priorities. Analyze the pros and cons in light of your project's requirements, budget, and technical expertise to determine whether Cloudways or Hostinger is the optimal fit for you.
Explore Cloudways | Discover Hostinger
Use Cases and Recommendations
When it comes to choosing between Cloudways and Hostinger, understanding their respective strengths and use cases is essential to making the right decision for your specific needs. Both platforms cater to a range of users, but certain scenarios may highlight one over the other. Let's explore some common use cases and provide recommendations for each:
1. E-commerce Websites:
Cloudways: If you're running a high-traffic e-commerce store, Cloudways' managed cloud hosting can offer the performance and scalability required to handle surges in online shopping activity.
Hostinger: For smaller e-commerce ventures or startups, Hostinger's affordable plans with reliable uptime can be a great fit.
Explore Cloudways | Discover Hostinger
2. Developers and Tech Enthusiasts:
Cloudways: Developers seeking control over server configurations, multiple PHP versions, and access to advanced tools will appreciate Cloudways' cloud infrastructure and customization options.
Hostinger: Developers looking for a budget-friendly option with a user-friendly interface can find Hostinger's plans suitable.
Explore Cloudways | Discover Hostinger
3. Bloggers and Content Creators:
Cloudways: If your blog or content-focused site experiences varying traffic, Cloudways' auto-scaling features ensure smooth performance during traffic spikes.
Hostinger: Bloggers just starting out can benefit from Hostinger's cost-effective plans and straightforward setup.
Explore Cloudways | Discover Hostinger
4. Small Business Websites:
Cloudways: Small businesses needing a hassle-free hosting experience can rely on Cloudways' managed services to focus on growth rather than server management.
Hostinger: Cost-conscious small businesses will find Hostinger's affordable plans suitable for establishing an online presence.
Explore Cloudways | Discover Hostinger
5. Resource-Intensive Applications:
Cloudways: Resource-intensive applications like SaaS platforms or complex web apps can thrive on Cloudways' scalable infrastructure and dedicated resources.
Hostinger: Smaller-scale resource-intensive projects can leverage Hostinger's VPS plans for a balance between performance and cost.
Explore Cloudways | Discover Hostinger
6. Personal Projects and Portfolios:
Cloudways: If you're showcasing your work or personal projects and require a reliable platform, Cloudways' managed hosting ensures your content is accessible and responsive.
Hostinger: Individuals and freelancers can showcase their portfolios on Hostinger's affordable plans, with ample storage and bandwidth.
Explore Cloudways | Discover Hostinger
Recommendation: To determine the best fit for your specific use case, consider your project's size, growth projections, technical requirements, and budget constraints. Cloudways offers robust performance and flexibility, while Hostinger provides a budget-friendly option with simplicity. Assessing your priorities will guide you toward the ideal hosting provider that aligns with your goals.
In conclusion, whether you're launching an online store, developing applications, or establishing a personal presence, both Cloudways and Hostinger have strengths that cater to various needs. By carefully evaluating your requirements and considering our recommendations, you'll be well-equipped to make an informed decision and embark on your online journey confidently.
Explore Cloudways | Discover Hostinger
Conclusion
In the dynamic world of web hosting, choosing between Cloudways and Hostinger is a decision that warrants careful consideration. We've explored an array of crucial factors, from pricing and performance to user interfaces and scalability. By now, you should have a comprehensive understanding of what each platform brings to the table.
Ultimately, the "Cloudways vs Hostinger" debate hinges on your specific needs and priorities. If you're a developer seeking advanced control and scalability, Cloudways might be your go-to option. On the other hand, Hostinger's user-friendly approach and budget-friendly plans could be the perfect fit for newcomers and small projects.
Before finalizing your choice, take a moment to reflect on your project's requirements. Consider factors like anticipated traffic levels, technical proficiency, and budget constraints. Remember that there's no one-size-fits-all answer; your decision should align with your unique goals.
Regardless of your choice, both Cloudways and Hostinger have carved out reputations for reliability, customer support, and performance. Your journey into the digital realm is bound to be enhanced by either platform.
Thank you for joining us in this in-depth comparison of Cloudways and Hostinger. We hope this guide has provided the insights you need to confidently embark on your hosting journey. Whether you're a business owner, a developer, a content creator, or an aspiring entrepreneur, the world of web hosting awaits, ready to support your online ambitions. Good luck, and may your digital endeavors be met with success and innovation!
Explore Cloudways | Discover Hostinger
Also Read:
Cloudways vs HostGator comparison
Cloudways vs GoDaddy comparison
Cloudways vs WP Engine comparison
Cloudways vs Kinsta comparison
Cloudways vs Bluehost comparison