Looking for information on how to start a blog in India?
You are on the right post.
There are so many people that are now planning to opt for the digital mode be it to earn money, to express themselves to people, or to reach out to the maximum audience to improve their market.
The work through digitalization has become a lot easier. There is also a space for honest communication.
However, along with it comes the rising work pressures because of which many people in the private sector are planning to either start the business on their own or simply go ahead with the part-time job by starting a blog medium.
If you have made up your mind too then a few things can be helpful on how to start blogging in India
How to start a blogging business in India?
Want to know how to create a blog for free and earn money in India?
Read on..
Writing a blog is one of the most demanding and upcoming career choices that you can make. It is not necessary that you must be an excellent writer but you must be aware of the right writing techniques.
Blogging is growing at a faster pace and now it is one of the important careers that many people choose.
There are so many young people who also consider blogging as an online business. They try to earn and that too at their convenience.
There is no doubt that blogging has got a bright future stored for you. And if you are trying to be a part of it then there are few things to be known when it comes to understanding how to start a blog and make money in India.
How to Start Blog in India 2023: Step-by-Step Guide for Beginners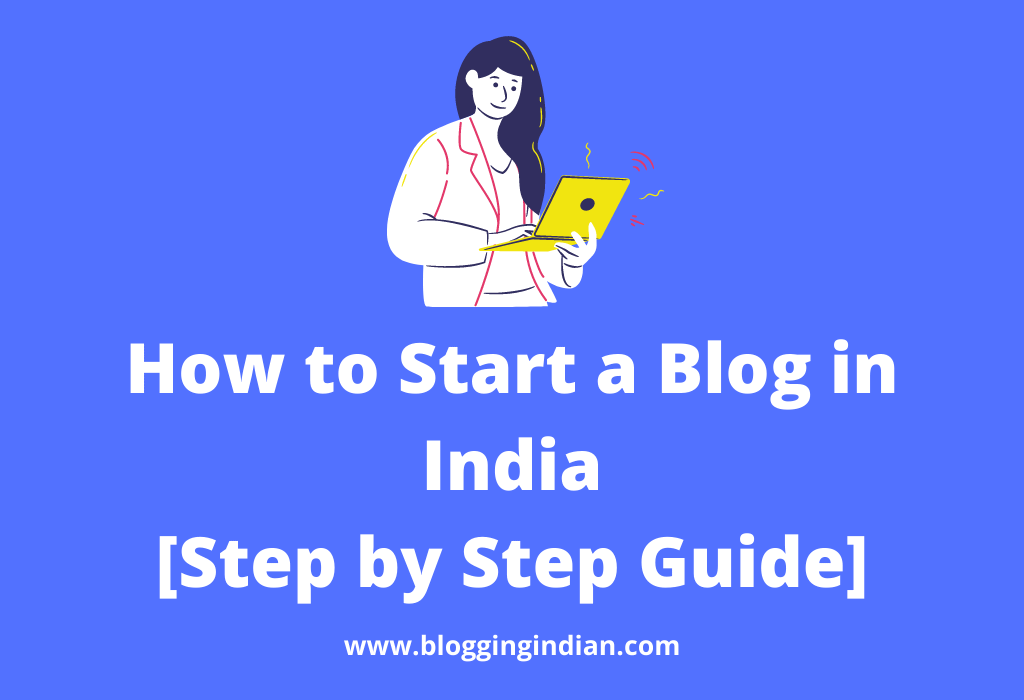 Step 1: Choosing a Niche for Your Blog
The very first thing you need to do is focus on the right subject or the topic on which you shall be working when you set your mind on how to create a blog and make money in India.
You need to ensure that the niche you choose is appealing and people are interested in reading about it.
Don't simply just look for the niche considering that it can help to boost better money.
Talking of which some of them are:
What are your favorite topics to talk about?
Do you have quite a good interest to keep blogging in a certain niche?
Is there a scope improvement on the topic?
Can you add better value to it?
If you get answers to all these questions then you will be all set to start with your blogging.
But if you are thinking about what could be the right way to start, then a few other steps need to be followed too.
But remember, you must focus on an interesting niche. Talking of which currently travel, fashion and news blog are quite trending in the market.
Step 2: Choosing a Suitable Domain Name
The name of the domain is another important thing to not miss out on when it comes to starting a blog in India.
It is like your online profile name. It does not have to necessarily depend on the niche that you choose but can be more on the personalized blog that you are planning to make.
Choose the domain name carefully because eventually, you shall be investing in the address to which many people in the future will refer.
Users who are aware of the URL will type in the address of their browser.
So, try to keep the name short, simple, and easy to remember. Since the standard rule to set the domain name is to apply .in or .com but there are also options like. Net that you can choose.
Step 3: Buying a Good Web Hosting
There are platforms like Tumblr, WordPress, and Blogger that are quite similar to starting blogging free of cost.
But they come with some drawbacks too
You will not be able to monetize the free blogs entirely.
Besides, it is also not possible for you to upload the images and videos that you wish to share with readers.
Probably because it is a free blogging option the features are limited. But you can consider the option of self-hosted blogging.
You can choose the address and suffice with domain extension as per your interest.
But self-hosting along with a domain name can be pricey. Ideally, the worth investment is 3000 rupees for 4 years of hosting.
Different Webhosting options that can help
This option offers cost-friendly hosting fees for your website. It has its presence in different regions too.
Even if it offers the cheapest web hosting solution, you might want to explore other options too.
This domain registrar comes with a wide range of hosting choices. It is popular as it simplifies the process to purchase the domain name.
Besides it also helps to set the whole hosting and create the website on its own too.
This can be another option to consider.
It offers a 97-day guarantee of money back. You get the cheap and the best web hosting solution.
Step 4: Installing WordPress on Blog
Once the domain name is chosen and the right hosting platform then comes the important part which is to install WordPress on the blog.
Hostinger can be the ultimate choice you can think of for this. It gives better accessibility for the auto-installer option.
With this, you can install WordPress in less than a minute.
To install WordPress, you must follow the steps given below and solve your concern about how to write a blog and earn money in India:
On the control panel of Hostinger, visit the Auto Installer" option that you can see in the section of the website
Click on it and the WordPress option will open
Hit the Select" button and a popup box will open where you need to fill up the website information
Administrator Username
Administrator Email
URL
Administrator Password
Website Title
Website Tagline
Once you fill up all the information, click on the "Install" button
WordPress will be installed automatically on your blog
Once the installation is complete, log in to the administrator dashboard of WordPress.
For this add wp-admin at f your blog's domain address end.
Enter the details that were used earlier for the WordPress installation to log in to the dashboard of WordPress and the whole process is done.
Step 5: Choosing a Good Theme for your blog
Now comes the important part which is to give your blog a decent design with a user-friendly layout.
You can install a good WordPress theme by visiting the section of Appearance tab.
In the WordPress themes section, if you browse them, you will find more than 3000 of these choices.
It is entirely your choice on how you wish to give your blog a fine look. But make sure the design looks quite natural and grabs the attention of the readers too 
There are a few steps you need to follow while choosing a theme, like:
Description:
Check the short descriptions that talk about the theme features.
Theme: Go to the theme demo section and get a general idea of how the blog shall look.
Ratings: You must look at different ratings to judge the theme's quality.
It is completely your call to bring the changes in the themes.
Simply the whole matter will be shifted to the new themes once you make the choice. If you are not happy then you can go ahead and purchase the premium themes too.
Step 6: Installing Essential WordPress Plugins
Once the installation of the WordPress themes is over, you then must shift your focus to important plugins.
The best part of using WordPress is that you can access a variety of plugins and most of them are free.
If you are a new blogger then you can install some meaningful plugins listed below.
SEO plays an important role when it comes to web blogging. It can help you reach ample visitors from search engines such as Google.
Since WordPress is SEO-friendly, you can improve your organic traffic with RankMath. It will help optimize the blog posts for certain keywords.
If accidentally you lost the data, then chances are high that you may even lose the images and blog posts, of course, you don't want this to happen and hence for backup of the sites restoring the data is important.
With UpdraftPlus you can backup and even restore all your website files.
The speed of the website is one of the crucial things that determine whether your business will be a success or not.
Since Google and Website visitors press the faster site, you might want to consider the WP rocket option for this. It is one powerful caching plugin option that can boost page loading time.
Step 7: Writing Quality Content
When it comes to blogging, we can't run away from the fact that dynamic content is extremely important.
This is where you as the writer or author or creator need to add touch to your blog with content that is informative.
You must grab the attention of the audience with content that has facts, tips, and even stories. It is important to engage your visitors.
You need to focus on creating content that is quality-based and should be submitted at the right intervals.
Every blog post that you create must be engaging. Some tools can help you understand if the content is unique or copied. You should have a title, good instructions, and a summary too.
Step 8: Generating Free Traffic
Once the whole content is ready, it is time to reach out to a good range of audiences. For doing this, you need to have an efficient marketing plan.
Look for creating ways to generate better traffic. You need to ensure that the blog reaches out to ample of the right audience.
For this, you can take help of the social media platforms.
Use search engine optimization for which traffic statistics software like Google Analytics can be helpful. Write some gusts posts that can engage millions of audiences too.
Step 9: Making Money from Blog
Once you get good in-hand experience in writing, it is time to move one step ahead. For this, you can focus on earning money through blogging.
By this, it simply means, you need to promote the affiliate products. Such marketing can always work.
See to it that you add upright affiliate link disclose as you promote the affiliate product. This should be one important practice that needs to be followed.
Also, there are freelancing services that can be helpful for you to earn. Google AdSense can be a great option too.
FAQs on How to Start a Blog in India for Beginners
What are the different types of blogs that help in earning better money in India?
Fashion & Lifestyle, Cryptocurrencies such as Bitcoin, Fitness, Travel, Business, and DIY are some of the options that can be helpful for you.
What should be the duration of writing the blog to earn money in India?
The frequency entirely depends on the niche in which you are currently working.
What is the scope for a blogger to earn money in India?
Depending on the dedication and zest to work in the field, a blogger can earn $500 to $2000 per month that too in just the first year of blogging.
To start with a blog may seem to be quite easy. But it can be challenging at the same time if you are starting how to start blogging and earn money in India. Whether it is to meet deadlines or manage quality content, you cannot just take a shortcut considering blogging is a get-rich-quick option. You must do this with passion and commitment and see the differences just a few times.
Also Read: 
How to Start a WordPress Blog on Bluehost
How to Start a WordPress Blog on GreenGeeks