Disclosure: I am an affiliate for Bluehost, and will receive a commission if you sign up through my referral link. This is at no additional cost to you, and you will get great pricing and a free domain name through my link.
In this post I will show you how to start a WordPress blog on Bluehost.
Step by step.
You know what setting up a WordPress blog is matter of less than 10 minutes even if you are a newbie with no technical knowledge you can do it very easily
When I ask people why have'nt they started blogging yet? They say me they are not from technical background and have zero knowledge.
Gone are the days when you need to HTML files manually via FTP client,update nameservers manually and install WordPress manually by creating and connecting to database.
It is now easy with few clicks of buttons.
Also Read: How to Start a WordPress Blog on GreenGeeks Hosting
The best hosting provider
It is a fact that majority of sites are hosted on Bluehost. Bluehost is a favorite choice if you are a newbie.
Allow me to explain
WordPress has officially recommended – Bluehost as the best hosting provider for WordPress.
Here are few great features for you to know –
Free 24/7 premium email and toll-free number support
Unlimited bandwidth
Unlimited email accounts
Easy to use Cpanel
One-click WordPress installation
If you dont like their service you can try it out for one month with 30-days money back guarantee.
Hey Friends You Know What?
I have special discount and offer for you.I provide my readers with Bluehost hosting at just $3.95/month!
Along with a free domain name.That too hosting optimized specially for WordPress
Click here to Get Exclusive Bluehost Offer
Now let me show you the process of creating a WordPress blog on Bluehost.
How to Start a WordPress Blog on Bluehost Hosting in 2023
Setting up your hosting account
The first step you need to go is for Bluehost homepage.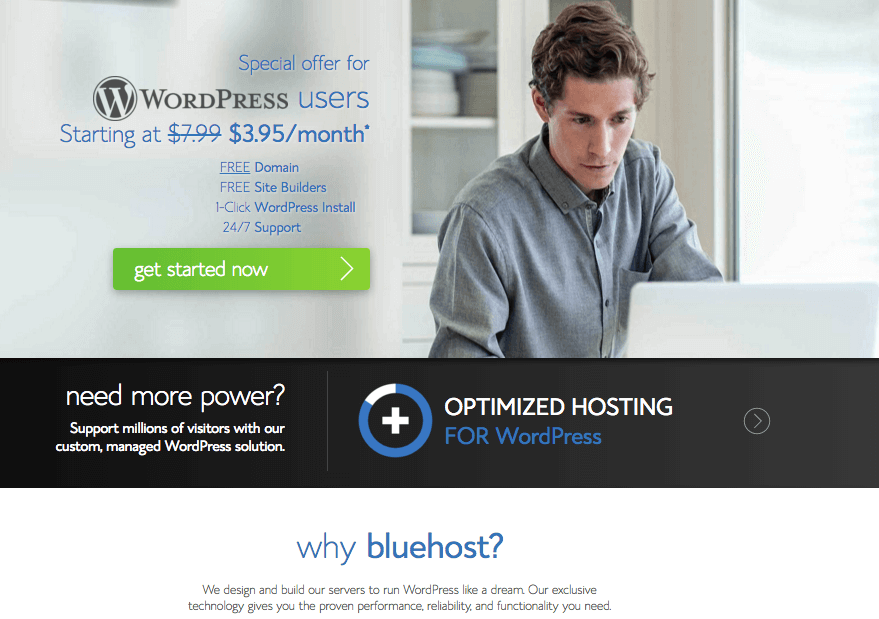 You can see a button called as "Get Started Button" Now in the next screen you need to select the plan for your hosting.If you are newbie I would recommend you to go with $3.95/month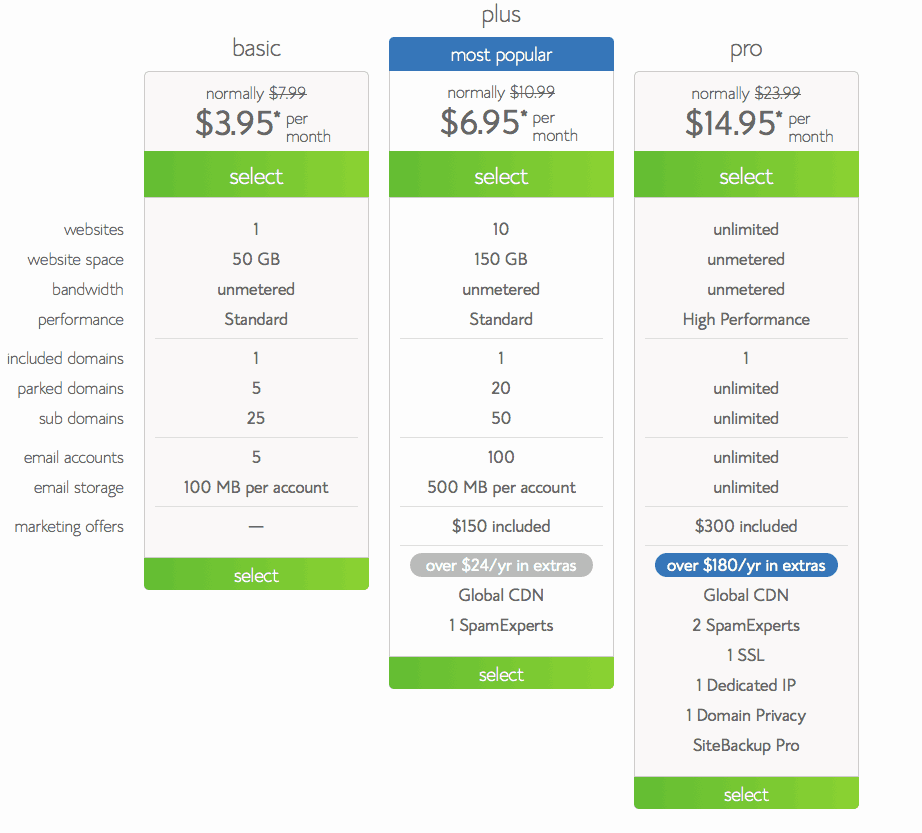 Now after choosing a plan you will need to register a new domain name.Just put your desired domain name.

After entering the domain name you would like to register click on the next button.
In the next step Bluehost will ask you to enter your contact details.Just fill the contact details as shown below:-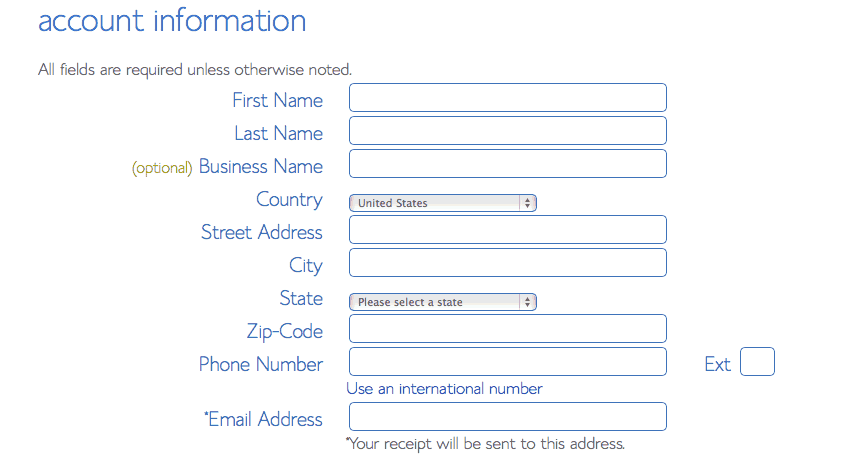 After you fill the information it will ask you to select the suitable package for your plan.
As you can see there are many optional things which you can include in hosting package.
You must be thinking what is Whois privacy.You can opt for this feature if you need to hide your contact details from others.
I personally don't use this feature you can use it if you are running a niche site and privacy is a main concern for you.
Now select an appropriate plan for you and proceed.
Now in the next step Bluehost will ask you to complete your purchase details using debit card or credit card.
Once you enter the card no Bluehost will automatically detect the card type.
Now the next step you need to setup password for your hosting account.Make sure the password is correct and easy for you to remember.
Setting up WordPress
Now the time has come to install WordPress to your hosting account.
Once you login to your Bluehost account with your password you shall see a cPanel like this below.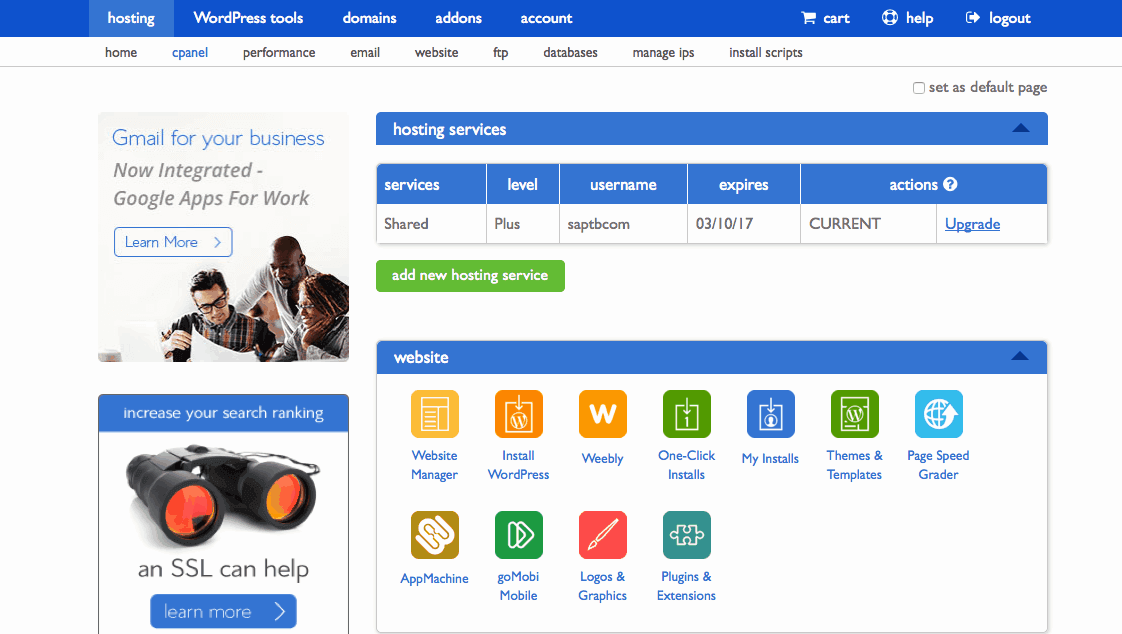 As you can see in the image above there is an option for Install WordPress.Just click on that.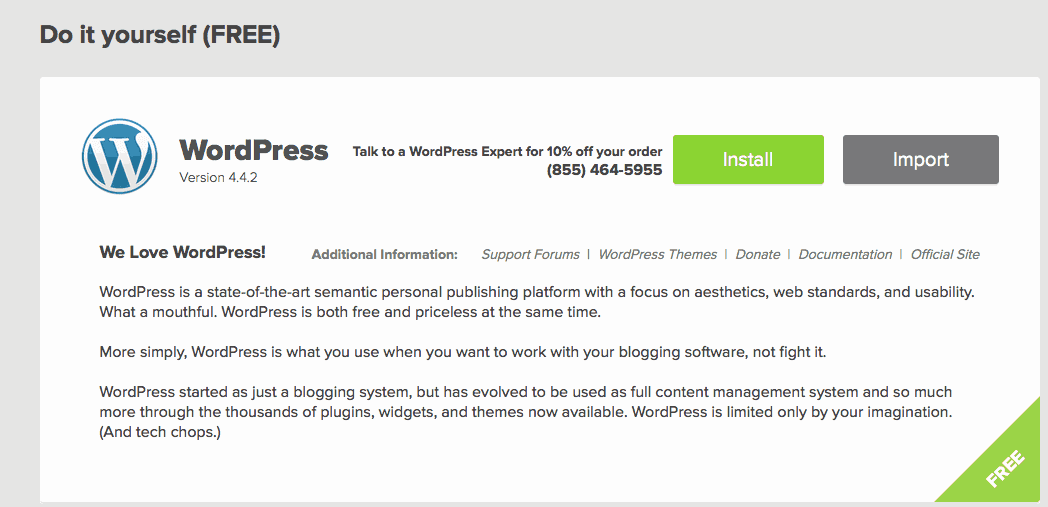 Click on Install shown in image above.
In the next screen you need to select the domain which you have registered like – example.com

Leave the next field blank unless you want to install your blog in a seperate WordPress directory like www.example.com/blog
Now just click on check domain to confirm whether the domain is ready for WordPress installation and proceed.
Here you need to fill the details like your Site Name/title,Username,Password and your Admin email address.
Accept the terms and conditions and click on "Install Now".

It may take few seconds to install WordPress on your hosting account.
Now you just need to enter the URL www.example.com/wp-admin in the address bar of your browser to access WordPress Admin Dashboard.
From there you can create posts,pages,manage themes,manage plugins and much more.
Now you are all set to create content on your WordPress blog.
Just make sure you signup for Bluehost using this special link to get hosting at $3.95/month alongwith a free domain.
If you are struggling with any step during the process contact me on [email protected] will quickly respond to your queries and help you step by step.
Conclusion on How to Setup a WordPress Blog on Bluehost Hosting in 2023
Please share my post with your friends who are looking out to start a blog.
Happy Blogging 🙂
Start your WordPress Blog on Bluehost Now
Also Read:
How to Start WordPress Blog using GreenGeeks
How to Start Blog in India
Common Blogging Mistakes Beginners Should Avoid