Looking for Instamojo Review?
You are on the right post.
With technology getting advanced day by day, a lot of start-ups and talented artists have started selling their creations online. But, most of them usually find difficulty to target their sales online due to lack of proper payment facilities in India.
This is because not many customers have debit or credit cards, and access most of the online payment gateways like PayPal, Payoneer etc., is limited.
To resolve this issue of the small-scale sellers, a boon named Instamojo has been invented. So, today we will talk about the Instamojo Payment Gateway Review.
What is Instamojo?
Before we start with the Instamojo Payment Gateway Review, let'sfirst understand what Instamojo is.
Instamojo is an Indian based payment solution introduced to help all the online marketers, freelancers, small business owners and bloggers out there. It has come up with an easy payment solution built specifically for Indians.
Anyone can easily create a payment link with Instamojo and share it on their website or page. Once done, you can receive debit or credit card, or net banking payments with ease.
This is a boon for all the online sellers whose target are Indian customers. Remember that it's only available for Indians, and you can't accept payments from outside India.
Instamojo has now become one of the biggest online payment solutions in India.
Click here to register Instamojo.com for FREE
Is Instamojo a payment gateway provider?
Not exactly. But it certainly is better than a payment gateway.
All you need to do is create a page on Instamojo and share it on your page or website. You can even integrate it to your website. Instamojo allows creating lovely CTA buttons too.
How to Get Started with Instamojo?
In this Instamojo Payment Gateway Review, we will also learn about how to use it. Instamojo is extremely easy to use.
Just follow these simple steps to get started:
Click on the sign-up button and create your account for free on the company website.
Next, click on the "Submit your KYC" option and enter your relevant KYC document details.
You will need to submit your PAN Card number, a copy of your chequebook or passbook front page, and your bank account details/statement.
Click on final submit and that's it. It takes not more than 2-3 hours to get things approved and activate your account.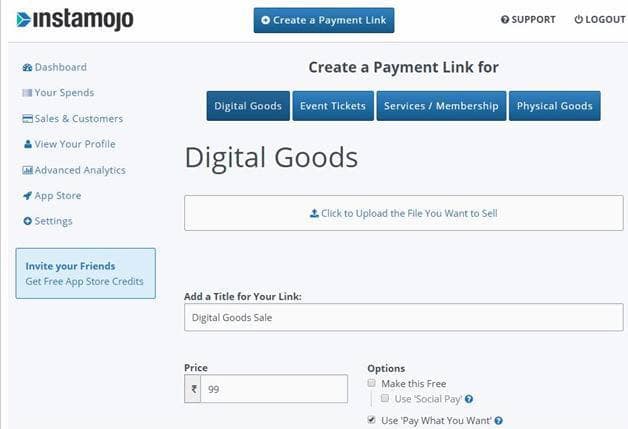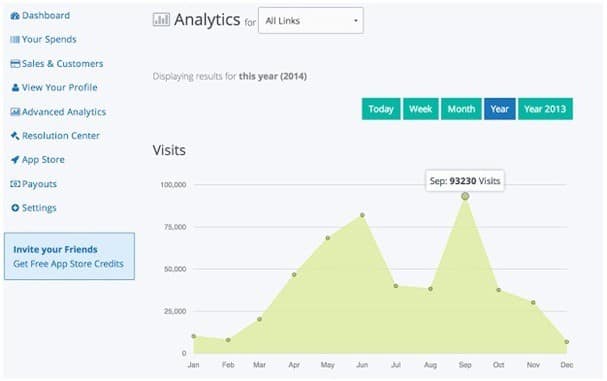 Your account has been set up within 5 minutes. You can start now generating links and collect payments using Instamojo. You can directly transfer all the payments made by your customers to your associated bank account.
Also, if you do not submit complete details required, you will still be able to use Instamojo, but with a limit of maximum 10,000 INR value. Submitting all the details gives you unlimited access to your account.
What You Have to Give in Return?
In return for the amazing service, this payment solution provides you, you will have to pay a mere 5% of your sales amount as the service fee.
This minimal amount decreases furthermore when your conversions start increasing and you start making bigger transactions. Payments on Instamojo are done every Friday on a weekly basis.
How to Use Instamojo For Your Online Business?
There are several ways you can use Instamojo in your Online Business, which will learn about in this Instamojo.com review.
Let's take a look at a few of them:
With Instamojo you can sell almost any kind of digital products across India without any hindrance, which was quite not possible earlier unless you either had a big funding e-commerce or you chose to sell it under the name of some big authorities at the additional
You can also sell tickets to any kind of events, parties, concerts or membership programs by integrating the payment system through Instamojo portal.
Books, Whitepapers, Music CDs, Magazines, Research Articles, Newsletters, educational material and what not can be covered under this category.
You could also use Instamojo to be an Affiliate for someone else and earn a commission each time you make a sale of their products online.
This particular feature helps you track several details like buyer demographics and more in order to help you focus on the kinds of customers and those regions that bring you most of the business.
This is also an emerging concept where you can take flexible payment instead of a fixed amount for the product from your audience. This is quite a helpful innovation for all the online developers who come up with useful add-ons, plugins etc. This feature can also be used by social foundations and NGO's to run online donation campaigns.
Social pay is a budding concept in the world of content marketing where you can ask your audience to pay a social share when you don't want to burden them with monetary pricing in return for the services you provide.
Post-purchase redirection
This feature allows you to redirect your customer to a certain landing page that you wish, be it your blog or any other product's page or just a simple redirection where you can thank them for making the purchase. This is more like a desired or customized page landing post-purchase.
This is a very recent feature of Instamojo, where you can announce discounts, offers, new product launches, upcoming events and more.
Things About Instamojo Payment Gateway you need to Know
Instamojo is one of the best payment solutions in India, and there are a few things you need to know about Instamojo.
We are doing to discuss a few of them in this Instamojo.com review.
No setup fee
Excellent customer support, but can be a little slow at times
Direct payments can be accepted through a unique link
Sales Stats can be viewed
Any number of products and links can be created
Direct payment to your bank account will be done weekly
Simple and user-friendly interface
A bonus of Rs. 500 will be given at the time of signing up, which can be redeemed only when you make your first sale.
Why is Instamojo best for Indians?
Well, there are a lot of payment gateways that can be used for payment purposes worldwide, but when it comes to India, there are only a few payment gateways that can be used with ease, which makes it difficult for the sellers to target the Indian customer base.
And with the tremendous growth in e-commerce, India could not have been left behind, this is where Instamojo comes in as a world-class solution. Now buyers can buy any kind of products without worrying about the payment gateway issues.
Things to be noticed about Instamojo for Selling Digital products
After a lot of research Instamojo and a detailed Instamojo Payment Gateway Review, here are a few points worth mentioning that I have noticed about this excellent payment solution provider.
Free signup and joining
95% of the sales share belongs to the seller
Fully optimized Product pages for various search engines
Options to sell for the flexible amount or for free
Customers can use debit cards too
Credit cards are not mandatory
What is the Best Thing About Instamojo Inc
Few of the best features of Instamojo Inc. that we have noted down in the Instamojo.com review are:
It's free to join
The simplest solution for Indian buyers
Customers without credit cards can also purchase items using debit cards or net banking
Social pay feature is a superhit, where buyers can just share details of the product on their social profiles and have it
Lowest commission charged
1 Click Mail system for all the users
Super cool analytics
Simple layout and buttons with a lot of options and functionality
Instamojo Free and Paid Add-ons
Instamojo, along with being an online payment solution across India, also comes with a lot of free as well as paid applications and add-ons that are available on their App Store.
A few of their several Apps are:
Zepo Couriers (FREE)
Pro Analytics (Paid)
Missed Call Marketing (Paid)
Payment Retry (Paid)
SMS Sales Alert (Paid)
Remove Button Branding (Paid)
And many more.
Final words on Instamojo Payment Gateway Review 2023
So, this was the detailed Instamojo.com review, a goldmine for online sellers, small business owners, bloggers and marketers out there that are striving to create their own online presence.
Instamojo has solved the problems of a lot of sellers out there by unifying payment methods on to a single platform.
So, create your account on this excellent service and make the most of it.
Use Referral Code – BLOGGINGINDIAN942e