Are you looking for MilesWeb Web Hosting Review?
If yes then you are in the right place.
In this post, I will be sharing my MilesWeb web hosting review with you so that if you are looking to buy hosting for your website it will be helpful.
If you are new in the market and looking for a hosting plan for your domain, then your search ends at MilesWeb.
So let's start off.
MilesWeb Hosting Review 2023 – Price, Plans, Feature & Pros
About MilesWeb
MilesWeb is an Indian based web hosting company which has been working since 2012. They have been providing hosting services to all types of business in the market at affordable cost.
MilesWeb Pricing Plans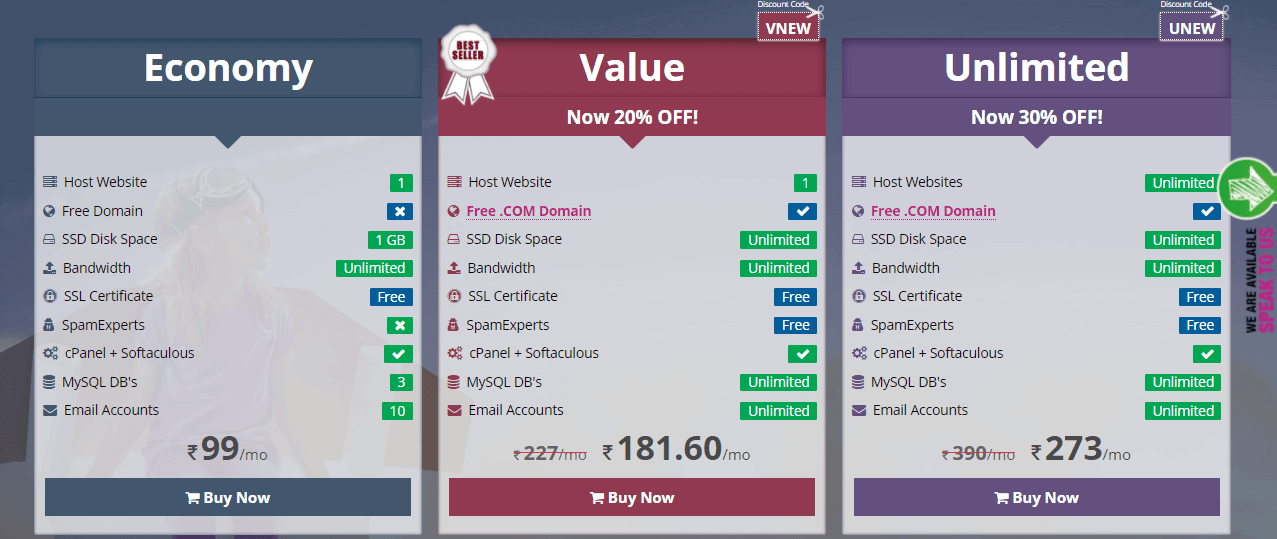 Speaking frankly, in terms of service, MilesWeb is far cheaper and customer oriented service provider as compared to any other hosting company.
There are three hosting plans-
Economy – Buy Now
Host Website: 1
Free Domain: N/A
SSD Disk Space: 1 GB
Bandwidth Unlimited
SSL Certificate Free
SpamExperts: N/A
cPanel + Softaculous
MySQL DB's : 3
Email Accounts: 10
Value – Buy Now
Host Website : 1
Free Domain
SSD Disk Space : Unlimited
Bandwidth Unlimited
SSL Certificate Free
 SpamExperts: Free
cPanel + Softaculous
MySQL DB's : Unlimited
Email Accounts : Unlimited
Unlimited – Buy Now
 Host Website : Unlimited
 Free Domain
SSD Disk Space : Unlimited
Bandwidth Unlimited
SSL Certificate Free
SpamExperts : Free
cPanel + Softaculous
MySQL DB's : Unlimited
Email Accounts : Unlimited
As compare to all these I prefer to choose the third plan which is Unlimited and cost effective.
Features Offered by MilesWeb Hosting
1. Free Domain Name
Register your brand new domain or the existing domain with us without any charge.
2. Free SSL Certificate
Show your customers that your site is trusted by implementing SSL. Protect your website and your visitors' sensitive data and boost your website ranking with SSL.
3. Free Site Builder
Select the template, add your content/images and publish your website. No coding skills or technical background is required.
4. Pure SSD Storage
Experience faster page loads with 100% SSD disks as all your website data is hosted on SSD drive.
5. Secure Email Accounts
Unlimited POP3 / IMAP email accounts with webmail support which let you access emails anywhere, anytime.
6. cPanel
Easily manage your website, emails, databases, domains, sub-domains and much more with cPanel control panel.
7. 1-Click Installer
Install applications like WordPress, Joomla, Magento and over 400 such apps through Softaculous one-click installer.
8. Malware Scan & Removal
We defend your website against malware. The websites are auto scanned on daily basis and if we find any threats, we fix it for you.
9. Instant Account Setup
Go online instantly! All cPanel Hosting packages are setup immediately upon payment confirmation.
10. Latest PHP & My SQL
We have the latest and the most stable versions of PHP and MySQL database installed on our cPanel shared hosting servers.
11. Datacentre Choice
Our datacentres are in India, UK, US and Romania. Choose your preferred location at the time of sign-up for no additional cost.
12. Free Website Migration
Not happy with your existing hosting company? Switch to MilesWeb, we will migrate all your data onto our server. No charges for data migration.
Detailed Information
Getting SSD (Solid State Drives) at an affordable price is an awesome deal. This increases your blog or website's speed and this is a bonus in SEO.
When it comes to buying hosting you get three plans. Economy plan can be preferred by the one who is a starter or the website that doesn't receive high traffic on your blog. The value plan is far better as compared to economy plan in terms of features. The unlimited plan, you get extremely great features as compared to other two plans.
Note – If you are thinking about buying the unlimited plan, it doesn't mean you will get the bandwidth unlimited, as you have chosen shared hosting plan, your blog is hosted on a shared server with several other websites and your server has a limit.
MilesWeb offers free domain and free migration process. Migration usually costs around $30-$500. A free domain is the key benefit of MilesWeb over HostGator and Bluehost India who don't offer a free domain nor a free migration.
MilesWeb Managed WordPress Hosting

If you want your WordPress website to be on the top, you need to choose any one of these plans. MilesWeb not only manages your WordPress hosting, but it delivers results to their clients with their expertise.
Here are the features MilesWeb offers to their clients as compared to any other service provider.
1. Automatic WordPress Updates
With our WordPress Hosting platform you don't need to update it manually instead at backend there is software that upgrades your WordPress to new version. Additionally, our technical professionals keep a track on the new releases and ensure that updates related to critical WordPress platform and core plugins are installed.
2. Server Level Caching
Litespeed cache is a built-in, one stop site acceleration plugin offered by us that comprises of an exclusive server-level cache and various optimization features. Enabled or disabled depending on your requirement inside the Managed WordPress interface. Supports WordPress Multisite and is compatible with popular plugins like bbPress, WooCommerce and Yoast SEO.
3. Fast SSD Storage
All our WordPress hosting plan comes with sufficient storage for your site requirements. Our high-performance solid-state drive storage helps you to get up to 200% better performance in comparsion to traditional hard drives or so called "spinning rust" drives.
4. Free SSL Certificate
Our security experts continuously monitors for vulnerabilities related to WordPress. Let's Encrypt SSL certificate included in your plan helps to keep the data safely encrypted every time it is transmitted between you and your site visitors. So, every single WordPress website hosted with us comes with its own SSL certificate without any additional charges.
5. WordPress Preconfigured
We preconfigure WordPress for you to make site management super easy. Installing WordPress becomes easy with various certified themes and plugins. This greatly helps in minimizing the efforts to setup and configure WordPress to run optimally.
6. Fast Provisioning
With MilesWeb you get robust, ultra-fast and scalable hosting for your WordPress sites. Additionally, features like LiteSpeed server caching, SSD hardware, PHP 7 and HTTP/2 support also help your WordPress website to fly with blazing speed.
7. Secure Mail
Each of our WordPress Hosting plan comes with email accounts that allow you to create multiple email addresses with IMAP/POP/SMTP accounts. Also, get unlimited support for autoresponder, mail forwards and email aliases.
8. Jetpack Premium/Professional
Jetpack helps in hassle-free designing, marketing and securing any of your WordPress site – just at one place. With Jetpack Premium and Professional package, you can display high quality ads on your site, enable auto-social sharing and re-sharing, plugin auto-updates, secure your website by spam filtering and malware scanning and the list continues. You don't need to pay extra for it as we have already included it in your plan.
I like the way they provide support to their clients by 27*7 through email, live chat and phone through their expertise.
Pros of MilesWeb Hosting
MilesWeb is extremely cheap in terms plans as they want their clients to build up strong online presence.
It allows you easy payments options through various modes. It also support in your local languages.
Additionally, it provides you with free domain and free migration. It also manages cheap hosting.
Cons of MilesWeb Hosting
They have to more marketing of their business so that they can reach more audience.
I guess once they market themselves more they will perform better than other hosting services.
Reviews From Experts

From this, you will get a clear idea about MilesWeb Services in terms of reliability, pricing, support and features which will help you to choose which service provider you want to use for your website.
MilesWeb Web Hosting Review Final Words
Definitely, they are one of the top rated Indian hosting companies and yet low on cost. You should try MilesWeb once and I don't think you would be disappointed. Since there is an option to pay in your local currency with debit cards, you can choose monthly plans and test a few weeks before making a commitment.
I hope you liked my post. If you did please share it on your social media and comment below if you have any queries or suggestions
Also Read: